---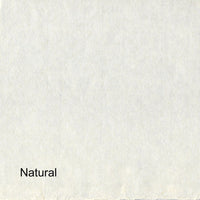 Product Description:
Sekishu Japanese repair tissue, handmade in Japan by Ishimoto in Kochi prefecture, 50% kozo/50%sulphite mix. Excellent wet strength, ideal for hinging and mounting. Thin, delicate sheet with laid lines. Colour Natural  Sheet size:  24" x 39".  Weight:  30g/m2. Supplied as a pack of 5 sheets
Product Category:
Japanese Repair Tissue
Tengujo and Sekishu repair tissue.