---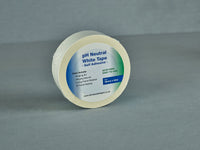 Product Description:
Single sided matt finish paper coated with an acid-free adhesive., supplied in a roll of 48mm x 55m.  It will strip cleanly from some print papers without the use of water.       Ideal for hinging artwork into mounts, for sealing glass, prints, mount boards and backing boards at the edges to stop dirt ingress. Also for covering deep bevel mounts and many more framing applications.
Product Category:
U.K. Industrial Tapes
UK Industrial Tapes Ltd are a leading Manufacturer,  of high-performance Adhesive Tapes and Adhesive products.
With over 25 years' experience, they have become a major supplier of high performance tapes into an extensive range and applications worldwide.
Priding themselves on high product quality combined with excellent customer service to offer a reliable, consistent and innovative supply. There vast range of adhesive tapes and adhesive products, offer the ultimate solution for most application requirements.