---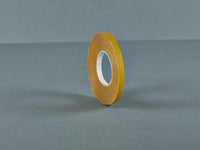 Product Description:
This 814-19 is a 50m X 19mm(3/4"width) roll of  high performance Ph neutral  Polyester Tape, 
Product Category:
U.K Industrial Double Sided Tapes
Double Sided Polyester Tape – 814 is an acid-free adhesive on both sides of a polyester base. Ideal for making and sealing polyester pockets for archival storage, and for making your own display folders.
Double Sided Tape – 150HS has a high deposition, high tack adhesive which makes this product an ideal solution for canvas, textiles and tapestry applications. It is excellent for adhering to structured, rough and textured surfaces. 150HS has a pure acrylic adhesive which is acid-free.
Fillet tape is polyester, coated with an acrylic adhesive system on both sides.