---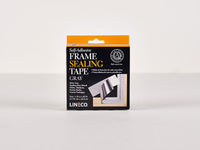 Product Description:
White 31.75mm x 25.4m, Lineco ref; L387-0152
Product Category:
Frame Sealing Tape
Developed specifically to seal backing board to frames, pressure sensitive tape attaches firmly to almost any surface and conforms well to most surface irregularities. Manufactured from Lineco's exclusive Perma/Seal label stock with a foil layer and non-yellowing permanent acrylic adhesive. Available in white or blue/grey.