---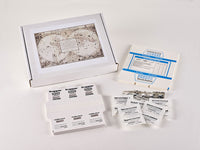 Product Description:
Museum Insect Monitoring Kit. 
Collection of insect traps designed to capture pests most common in museum environments.

Kit contains 10 stealth traps, 10 Trapper Monitor traps, 2 lures for varied Carpet Beetle, 2 lures for Black Carpet Beetle, 2 lures for Cigarette Beetle and 2 lures for Warehouse Beetle. Kit also contains 10 food baits for Cockroaches and Silverfish. Details instructions included. Contains no pesticides.

Product Category:
Insect Control Products
A range of products designed to assist in the control of creepy crawlies commonly found in storage  and archive areas.