---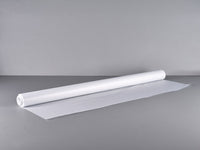 Product Description:
Roll of, 1524mm x 91.4m (60' x 100yds) 40gsm
Product Category:
Glassine
Neutral pH glassine available in sheets and rolls, in a variety of widths and weights. Suitable for a variety of wrapping and interleaving applications. Smooth, translucent and off-white in colour, glassine is particularly useful in situations where transparency is required.