---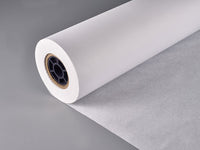 Product Description:
Roll of Barrier/Wrapping Un Buffered Paper.1075mm x 100m. 120gsm
Product Category:
Barrier/Wrapping Paper/Unbuffered
Unbuffered Barrier/Wrapping papers  are acid and lignin-free and unbuffered and meet stringent tear strength tests, making them suitable for the creation of permanent records. These larger rolls and sheets are ideal for interleaving, wrapping, envelope manufacture etc. Sheeting service is available.