---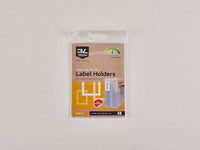 Product Description:
Clear pocket with card insert 55 x 102mm. Self adhesive
Product Category:
3L
3L manufactures laminated products that require no equipment, heat or electricity. These adhesive laminating products are available for Identification Badges, Luggage Tags, Credit Cards Pouches, Business Card Pockets, Media Storage Pockets and Corner Pockets
Recognized in Europe as an innovative leader in value added bindery and finishing pressure sensitive pockets and media storage components.
Add value to your presentation and printed projects with these well designed, unique cold adhesive products.
3L products are manufactured from environmentally friendly, high optical clarity, adhesive-backed polypropylene (unless noted otherwise).
Polypropylene is advantageous to vinyl:
Easy to use
Copy safe, flexible, shatter-free, durable and less expensive
Durable seams resist tearing and splitting
Archival