---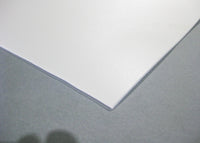 Product Description:
Softlon®

 

is a 4mm thick closed cell polyolefin foam that is lightweight, environmentally friendly, and extremely versatile. This fine, closed-cell product, is available in rolls of 50m x 1m and has two smooth skins making it very easy to fabricate.  Some features of Softlon include:-
excellent thermal insulation – very low thermal conductivity
non-toxic and environmentally friendly
very lightweight
excellent mechanical properties
wide temperature resistance – from -80°C up to 120°C
negligible water absorption
low water vapour transmission
excellent chemical resistance
good weathering resistance
easy to work by cutting
Product Category:
Polyfoam®
Inert polyethylene foam is a versatile packing material used for the wrapping of objects and lining of boxes and shelves etc. Provides cushioning for fragile items during transportation and storage.