---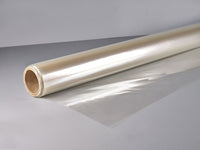 Product Description:
63" x 150' (1.6m x 45m) coated 1 side
Product Category:
Silicone-coated Polyester
A dimensionally stable clear film that will not wrinkle from application of heat, making it suitable for use in vacuum hot tables, where a transparent membrane that will not stick to surfaces is required. Also suitable for wrapping, covering work surfaces, humidification, etc. where a non-stick barrier is required.