---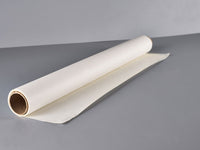 Product Description:
54" x 20' 2.5mil (1.3m x 6m)
Product Category:
Beva Films
BEVA 371 solution sprayed into film form for easy workability without solvents. Transparent, ideal for relining dark canvas with Mylar or Stabiltex. 1 mil suitable for mounting lightweight papers and fabrics. 2.5 mil suitable for use on canvas & heavyweight materials.