---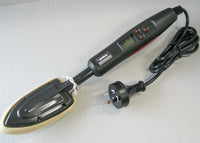 Product Description:
Prolux  Tacking Iron. 240V with tapered end. Width at the bottom of the head: 52mm Length from tip to bottom of head: 120mm Adjustable temperature control and LCD display. Teflon sole plate and temp range from 100°C to 220°C.
Product Category:
Tacking Iron
Excellent professional iron to use with heat set tissue when mending pages or consolidating brittle documents. Features Teflon coated sole plate with pointed end and sloping sides. Adjustable temperature gauge from 100°C to 220°C and holds the heat within 1.7°C.  Heats to temperature within 90 seconds. Comes with stand.