---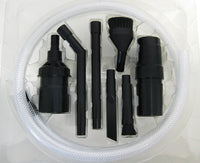 Product Description:
Mini adapter kit for Museum Vac. Flexible extension hose with various adapters to allow access into confined areas, Also includes a vacuum adjuster for various suction levels for sensitive materials
Product Category:
Vacuum Cleaners
The Museumvac is a compact & lightweight vacuum cleaner safe for use on delicate items. Museum-Vac has variable suction control and comes with hose, rubber tool & HEPA filter bags (mini adaptor kit & other accessories also avail ). The Minivac is battery powered hand held vacuum, with gentle suction, useful for cleaning up keyboards and small items.