---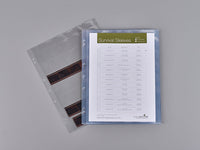 Product Description:
Pack of 100, 35mm Negs (7 horizontal strips) 90micron. Page size 317 x 250mm
Product Category:
7 Hole Punched For Binder Storage
Inert, durable and economical polypropylene sleeves allow easy viewing of photographs and documents, thus reducing wear and tear caused by additional handling. 7 Multi-hole punched to fit a range of binders. Passes the PAT.