---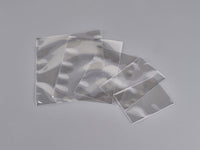 Product Description:
To fit A4 221 x 307mm 75um. Style BB is (Side loading, 3 hole-punched through front and back sheet)
Product Category:
3 Hole Punched For Binder Storage
Melinex® sleeves offer high clarity for display and are approved by the Library of Congress for long term storage.Inert & slightly rigid, Melinex provides support for very fragile items (NB not suitable for charcoal, pastel & similar mediums). Passes the PAT. Sleeves are available with  hole punching to suit binder storage.