---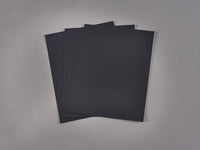 Product Description:
Pack of 25 cards, A2 420 x 594mm black, 270gsm
Product Category:
Black Support Cards
Made from buffered Black Folder Board stock, these cards provide excellent support for documents and photographs. Variety of document and print sizes can be mounted on the card with photo-corners. Used in conjunction with hole-punched polyester or polypropylene sleeves and stored in archival albums, the support cards are the ideal basis for a true archival scrapbook.