---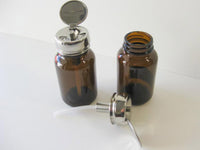 Product Description:
Self-contained  Standard pump dispenses small amounts of solvent into a stainless-steel cap reservoir. Handy flip-top lid protects and acts as a dust barrier.  Standard Pump model is supplied with  4 oz. capacity amber glass bottle.
Product Category:
Conservation Materials General
Various products including clear protectors coatings, acid detection kits for films, and carbon cloth for absorption of pollutants.