---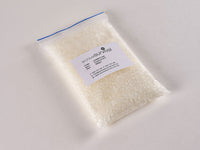 Product Description:
Paraloid B72 beads, 500gm, ethyl methacrylate copolymer
Product Category:
Paraloid (beads and solution)
Paraloid B67 is an acrylic resin used as a modifier in oil paints to improve drying speed, hardness, colour enamel holdout and gloss retention. Also used as a varnish. Paraloid B72 is a general purpose resin with excellent flexibility. Used as a clear protective metals coating, cloth coating and as a varnish. Both B67 and B72 are available in solution as a ready-made Objects Labeling Kit (B72 20% solution in acetone, B67 20% solution in white spirits). Kit instructions available on request.