---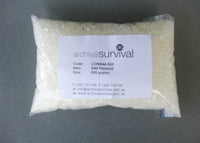 Product Description:
PARALOID B-44 is a solid grade acrylic resin providing outstanding combination of hardness, flexibility, and adhesion to various substrates. It also permits wider latitude in formulating in solvents that are suitable for specific applications. The resin is slightly softer and more flexible than PARALOID A-21 acrylic resin and has excellent adhesion to various substrates.
PARALOID B-44 acrylic resin can be dissolved in toluene, xylene, selected esters, acetone, and methyl ethyl ketone. PARALOID B-44 is not soluble in most alcohols and aliphatic hydrocarbons as the sole solvent. It is well suited for a variety of applications, including treated metal, copper, zinc, brass, treated aluminum, concrete floors, and certain plastics.
Product Category:
Paraloid (beads and solution)
Paraloid B67 is an acrylic resin used as a modifier in oil paints to improve drying speed, hardness, colour enamel holdout and gloss retention. Also used as a varnish. Paraloid B72 is a general purpose resin with excellent flexibility. Used as a clear protective metals coating, cloth coating and as a varnish. Both B67 and B72 are available in solution as a ready-made Objects Labeling Kit (B72 20% solution in acetone, B67 20% solution in white spirits). Kit instructions available on request.