---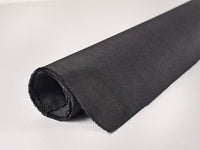 Product Description:
39" wide x 36" length (1m x .91m) Sold by the metre. Orders of multiple metres will be supplied in one continuous length.
Product Category:
Activated Charcoal Cloth
Cloth made from 100% activated carbon in textile form, laminated to a polyester liner. Used for absorption of pollutants in storage and display cases, as well as an anti-tarnish cloth for silver objects. Can be cut and sewn to make pouches, line drawers and display cases etc.