---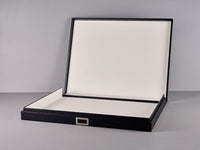 Product Description:
513 x 690 x 60mm (to fit 20 x 27")
Product Category:
Presentation Range
Handcrafted, black buckram-covered 3 ring binder & slipcase albums and lipped clamshell binders provide high quality presentation as well as preservation for precious documents and photographs. Lipped clamshell binders feature a magnetic closure. Presentation Boxes provide means of presentation without the hole punching. Solander Boxes are s
ealed with pH neutral adhesive and lined with buffered archival paper, our solander boxes offer the ultimate in presentation and preservation for documents and works of art.