---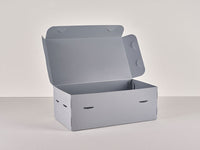 Product Description:
Box 5 (large index cards, video tapes) 371 x 210 x 137mm
Product Category:
Index Cards Boxes PP
Inert Australian extruded and Manufactured polypropylene audio-visual boxes offer protection from dust and light for records and tapes . Durable, light grey boxes pass the PAT. Shipped flat with tab construction.