---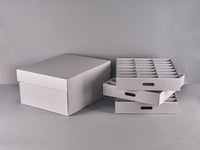 Product Description:
XL Object box kit, 473 x 575 x 285mm. Three levels, 21 divisions/level. 
Tray internal dimensions are 460mm X 540mm X 90mm
Compartments Measure 150mm L X 75mm W X 90mm H
Product Category:
Object Box Kits
These versatile boxes allow smaller objects to be stored together within the one box. The Single Deck Object box is one third the height of the Triple Deck Object box. Both boxes take the same trays/divider inserts. Divider insert creates 12 separate compartments, each approx 90 x 90 mm. No tape or adhesive is required for assembly. All components are constructed with National Archives-approved corrugated archival board and are 100% Australian made. and can be used without divider inserts if required. Boxes can also be purchased on their own. Custom dividers can be made to fit specific objects such as golf balls, etc.