---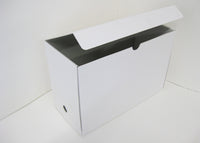 Product Description:
BXGW-BOX1  373 X 175 X 250mm ID. New reversible light grey/white Type 1 box. Can be folded to have a grey exterior (to match existing NAA Type 1 boxes) or white exterior. Folding properties allow the same excellent finish either way. Introductory offer of $5.50 ex GST each (normal price $7 ex GST.)  
Product Category:
Documents MUB
An economical range of high quality document  storage boxes constructed from buffered archival corrugated board that meets NAA standards. Offering a broad range of styles and sizes to accommodate most records and objects, these boxes do not require glue for assembly and are shipped flat to reduce freight & storage
costs.