---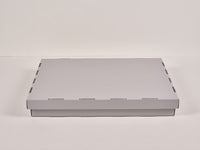 Product Description:
Bark Painting Box, internal dimensions 405X1480mm
Product Category:
Bark Painting Boxes
A versatile range of bark painting boxes also suitable for other objects and artworks. Made of NAA approved archival corrugated board, the boxes all have a height of 75mm and exceptionally strong base with all four walls having double thickness (four side rollover). Lid has 50mm depth. Other sizes available on request. Measurements are inside dimensions.