---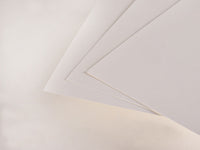 Product Description:
Pack of 50 sheets, 800 x 1200mm 350gsm white. Thickness 0.43mm
Product Category:
White Folder Board
Made of a single ply of material, our 100% Australian-made folder board does not contain any adhesives and is produced in accordance with the NAA's archival quality standard. White folder board has many practical applications including folder-making, bookbinding and production of card supports. With a minimum alkaline reserve of 2%, the buffered board promotes longevity of paper-based collections by neutralising acids present within original materials that are stored in contact with it. Custom sizes available on request. Minimum quantities apply.