---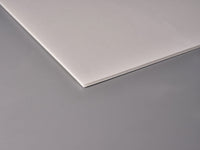 Product Description:
Pack of 25 sheets, White 1016 x 1524mm, 5mm thickness. This Gilman Acid-Free foamboard is created for the high-end requirements of preservation mounting and framing. Its extruded polystyrene foamboard has acid-free paper facings and offers two mounting surfaces, both free from damaging pollutants and harmful gases. It also complies with PAT Standards. The Acid-Free liners offer pH values ranging from 7.5 - 9.5 and are buffered with 3 - 5% calcium carbonate reserve to retain acid-free characteristics longer. The liners are 100% High Alpha Cellulose virgin pulp, free from ground wood and/or post-consumer materials.
Product Category:
Fomecore
Lightweight board with an acid and lignin-free outer and polystyrene core, used for box making and as a backing board for mounting and label creation.