---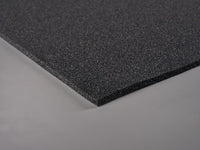 Product Description:
2740 x 600 x 10mm black
Product Category:
Ethafoam 220 & Equipment
Ethafoam 220 polyethylene foam is a rigid, medium-density closed cell foam. Chemically inert and non-abrasive, it is suitable as a cushioning component for lining drawers and boxes, and support for museum artifacts and artworks. Other sizes available on request. NB: To reduce possible high freight charges, planks can be cut in half at no additional charge.