---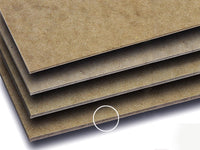 Product Description:
Pack of 5 sheets, 762 x 1041mm, 3mm thick
Product Category:
Davey Binder's Board
Davey Red Label is a superior quality acid-free binder's board (pH above 7.0) sought after by bookbinders for its high density and single ply construction. Red Label has a desirable degree of surface smoothness, high flex strength and excellent corner crush resistance. Suitable for hardcover book and box construction, albums, ring binders, decorative boxes, scale models etc.