---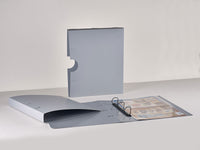 Product Description:
A3 document album, light grey 365 x 445 x 40mm. Three ring.
Product Category:
Polypropylene Binders & Slipcase Albums
Our attractive Australian-made binder & slipcases provide complete protection and easy access for document and photographic collections. Made of inert polypropylene, the binder & slipcase combination creates a dust and light proof storage system that safely houses documents and prints up to A2. The 3 ring binder accommodates our hole-punched polyester and polypropylene sleeves. Used in conjunction with hole-punched sleeves, archival card-supports and photo-corners, these binders safely and attractively protect a wide range of photographic material, ephemera and documents to produce a true archival scrapbook! Passes the PAT. Ring assembly has a solvent-free synthetic polymer powder coating that does not off-gas.