---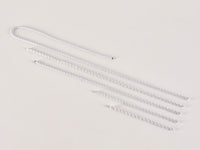 Product Description:
Snake weight, woven nylon with metal cylindrical weights, sold by the metre. Can be cut by the end user to any required length. Orders of multiple metres supplied in one continuous length.
Product Category:
Weights
Range of weights suitable for holding works in place in the conservation lab and office environment. Snake weights and finger weights suitable for gently holding book pages open while on display.