---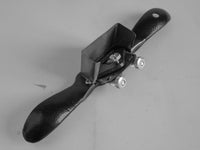 Product Description:
Modified 151 Spokeshave for Leather Paring. This improved  design of the 151 style spokeshave is modified for leather work. It now features a shaving collector. The shaving collector really speeds up work with the spokeshave, since you don't have to stop and vacuum the stray shavings every couple of minutes. You can also save a lot of leather by avoiding the holes and tears these shavings can cause.
Other modifications include reducing the effective cutting angle by grinding the base, truing the adjustment knobs, rounding and lessening the surface area of the sole, opening the mouth a bit, flattening the blade bed by filing and filling with epoxy, and flattening the blade cap. It comes with a modified A2 blade, reground to a lower angle, sharpened, and the corners slightly rounded.
Product Category:
Peachey
Jeff Peachey designs make and sell tools for bookbinders, conservators and leatherworkers.