---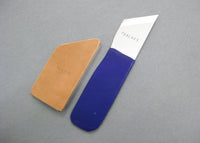 Product Description:
Left Hand, A2 English Leather Paring Knife.  
These are A2 cryogenically treated knives, HRC 62. Excellent for all around paring. The handles are hardwood or leather, and the blade angle is 55 degrees. These knives are excellent for vegetable tanned goatskin, chrome tanned leathers, abrasive calf and alum tawed skin. The wood handle is ergonomically shaped. Horsebutt blade cover included. Fully hand sharpened, 13 degree bevel angle.
Product Category:
Knives
Stainless steel scalpel handles. Lifting knife and Scalpel blades