---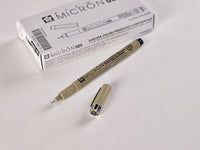 Product Description:
Pigma Pen 0.20mm width
Product Category:
Pens
Our comprehensive range of pens have many practical applications. Pigma pens are suitable for permanent recording of information on to archival paper labels, card supports and folders, while Sharpie pens are a quick drying and permanent labeling solution for archival plastics including polypropylene and polyester. The handy Light Impressions pH testing pen tests for acid content of papers that come in contact with artworks, photos and documents. It contains Bromcresol Green, a chemical ink that changes colour when applied to paper. A yellow dot indicates high acid content, green dot indicates some acid and blue dot indicates no acid.