---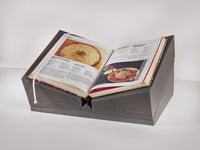 Product Description:
Now produced in Australia so prices are reduced.
Clarkson Book Support Systems: Large Base Wedge 760 x 470mm
Head to Toe dimension 495mm, Cover width 370mm
Product Category:
Clarkson Book Support Systems
Book Support System designed by Christopher Clarkson to cater for books with a wide variety of structural variations. The system is used in institutions throughout the world. The book support is built up from lightweight units of synthetic foam. Synthetic foam allows a book's uneven board surfaces even with bosses and side pins to be equally supported over their entire exterior surface. The particular density of foam was chosen for the important non-slip characteristic required and the grey colour was found preferable for a library environment.