---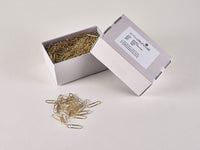 Product Description:
Brass paper clips 33mm
Product Category:
Plastiklips and Brass Paperclips
Plasticklips are Archival quality arrow-head clips from Laurel, are rust-proof, non magnetic and computer safe. Available in four practical sizes, the 21mm clip comfortably holds 10 sheets of paper, 25mm clips 20 papers, the large 35mm clip 30 sheets of paper and the 60mm clips hold 50.  The King Klip will hold up to 70 sheets. Non rusting brass paperclips are also now available.